John Hope Bryant: Global Dignity and You
Global Dignity and You
Posted: 10/31/11 06:43 PM ET
Imagine what the world be like -- what would have happened in the global economic crisis, if everyone practiced one simple global golden rule -- dignity for all.
Beyond basic competence and honesty, if every leader believed in and stood behind only one ethic -- Ubuntu.
Ubuntu, which comes from mother South Africa, roughly translates "I am me, because you are you."
What would have happened is simple -- there would have been no global economic crisis.
You see, in order for this global economic crisis to be real, to effect us in the way that it has, there must first have been an obsessive focus on the "me" rather than the "we."
An individualized focus on "what do I get," rather than "what do I have to give."
A personal focus on "getting paid or getting rich," rather than say "building wealth."
These are subtle differences, but differences that in the end make all the difference in the world.
In this crisis, most of us (if we are honest) treated individuals and even clients like transactions rather than relationships. So no wonder things turned out so crappy.
All of these concepts I cover in some depth in Love Leadership: The New Way to Lead in a Fear-Based World (Jossey-Bass), but a powerful universal truth like this, just like love, is best described in action.
On October 20th members of the Forum of Young Global Leaders, and other inspired leaders from 50-plus countries around the world, all came together to do precisely that -- and we called it
Global Dignity Day 2011
.
Global Dignity Day
, which is the primary action initiative of the
Global Dignity NGO
, started out as nothing more than an idea inspired by three friends and then members of the Forum of Young Global Leaders (HRH Crown Prince Haakon of Norway, Professor Pekka Himenan of Finland, and myself).
The question was: How can we inspire the world, and world leaders, to think and to lead "differently."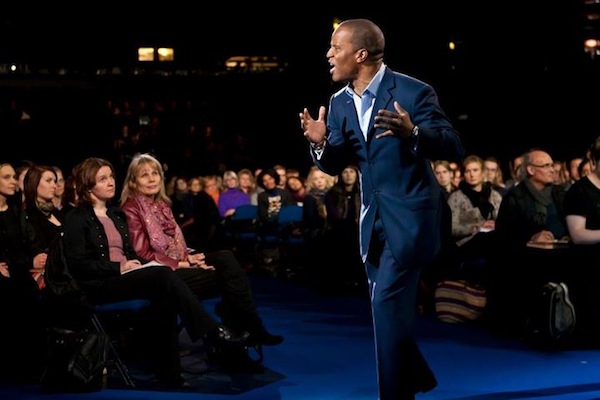 How can we inspire a new commitment to a unifying sense of spirit, and maybe even a spirituality, without getting bogged down in differences around religion?
At a time when the world doesn't seem to agree on much, we believed that nearly 7 billion people on the planet could agree on one thing -- they all wanted more dignity. That bet seems to be working.
On October 20th, leaders from countries around the world -- from South Africa to South America, to South Central (Los Angeles, California), and from Southern Turkey to the South of France and beyond -- all came together, standing for one thing -- our dignity. In so doing, they were also helping the world to highlight our fascinating similarities, instead of our rather bland and uninteresting differences.
As leaders since the beginning of time have continuously all pointed out -- we are all in this together.
This was the powerful message delivered during the first ever
Global Dignity Forum
in Helsinki, Finland on October 19th, produced by our friend and brother Professor Pekka Himanen, and featuring the likes of HRH Crown Prince Haakon of Norway, along with Nobel Laureates Archbishop-Emeritus Desmond Tutu and former President of Finland Martti Ahtisaari, as well as Pekka and myself. And it was fantastic seeing a stadium-size facility filled with leaders cheering "dignity for all," and not simply a popular sports game, or worse, the mindless debasing of our humanity that seems to draw crowds far too often these days.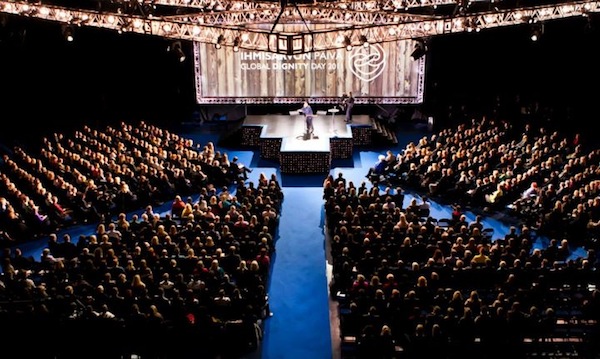 This was a global message further amplified by our Global Dignity country and city chairs from around the world, including Ms. Christina Lopes (Brazil); Ms. Jennifer Corriero (Canada); Prof. Pekka Himanen (Finland); Mr. Christopher Logan (Hong Kong); Mr. Malvinder Singh (India); Ms. Veronica Colondam (Indonesia); Mr. Silverius Unggul (Indonesia); Mr. Alvaro Rodriguez Arregui (Mexico); Mr. Ganhuyag Ch. Hutagt (Mongolia); Mr. Erik Charas (Mozambique); Ms. Osayi Alile Oruene (Nigeria); HKH Crown Prince Haakon (Norway); Mr. Jacek Olechowski (Poland); Ms. Penny Low (Singapore); Ms. Phuti Malabie (South Africa); Mr. Murat Sarayli (Turkey); Amir Jahangir (Pakistan) and myself (U.S.), amongst many others.
And then there was the song. That SONG.
That Global Dignity song
, produced by Dave Stewart and performed by Nadirah X, released on October 20th, 2011, and now shared with and around the world as a free-global download.
Wow, is the only descriptor of how this song moves and inspires in the same breath, in the same universal language, all around the world.
One of my mentors and life inspirations, the icon Quincy Jones, once told me that music was probably the original language.
That every song was rooted in 12 core musical notes.
That people relate to and are inspired by music, when nothing else seems to work, and even when they do not understand the root language.
The music, moves the human spirit towards unification.
Music saves us from ourselves, and dignity makes us more of ourselves.
I think I will just end the same way I started here, in mother South Africa, singing... "Ubuntu -- I am me, because you are you."
Days like October 20th, 2011, restore my hope in society, faith in our shared humanity, and belief in our future, through the eyes of our children.
Onward and with hope.
John Hope Bryant is a thought leader, founder, chairman and CEO of Operation HOPE and Bryant Group Companies, Inc. Magazine/CEO READ bestselling business author of "Love Leadership: The New Way to Lead in a Fear-Based World (Jossey-Bass)," and a Member of the U.S. President's Advisory Council on Financial Capability for President Barack Obama. Mr. Bryant is a co-founder of Global Dignity with HRH Crown Prince Haakon of Norway and Professor Pekka Himanen of Finland. Global Dignity is affiliated with the Forum of Young Global Leaders and the World Economic Forum.
Courtesy: